Georgia Olive Growers Association
News and Events
2013 Georgia Olive Growers Association Annual Meeting and Conference
Featured Articles
Georgia Olive Farms First Harvest in the News
GOGA Mission Statement
Videos and Presentations
We look forward to seeing you at the 2013 Georgia Olive Growers Association Annual Meeting and Conference on May 10, 2013 at the Threatte Center in Lakeland, GA.
The date has been set for our annual meeting and conference. Mark your calendar for May 10th and send your registration(s) today so you don't miss this year's event. This will be an opportunity to provide a wide range of information to growers, potential new growers, research/developers, support industries and governmental agencies working in the expansion of the olive oil industry and Georgia and Southeastern US.
Click here for more information
---
Featured Articles
Georgia Olive Farms featured on StAugustine.com
…people are buzzing with excitement over a liquid gold produced in Southern Georgia: extra virgin olive oil.
View the article, "Liquid Gold Rush" here.
---

Georgia Olive Farms featured in Cooking Light!
Read the article, "Hidden Gems and Delicious Destinations" here.




---
Olive Oil Joins Locavore Movement in American South
Fresh produce picked from a garden and plated by the chef who grew it is no longer a concept reserved for the highest end restaurants of California, Spain, or France. The farm to table movement has swept the South faster than a wild fire, and if newest James Beard Award-winning Best Chef of the Southeast Hugh Acheson has anything to say about it, this wild fire won't be burning out any time soon.
Read more from the Olive Oil Times here
---
High Stakes in Georgia
It's a slippery industry, but the folks at Georgia Olive Farms are working hard to bring homegrown olive oil to the East Coast
Read more from Allston McCrady's article at The Local Palate Food Culture of the South
---
Georgia Olive Oil Makes a Southern Dinner
"My guests loved their first pimento cheese, but when I explained how to make it, they didn't believe I used Georgia olive oil. And if there was such a thing, "It could not possibly be better than Lebanese olive oil!" I poured a precious bit for them to taste. Their eyes got big. They insisted on seeing the bottle."
Read more from Myra Blackmon's article at Like the Dew: A Journal of Southern Culture & Politics
---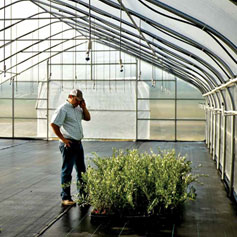 Virgin Harvest
A group of South Georgia farmers is rolling the dice on a crop straight out of the Bible — olive trees. Will gourmet olive oil be far behind?
View the PDF of Jim Auchmutey's Atlanta Magazine article about Georgia Olive Farms first harvest.


---
In Georgia: The Next Oil Barons
Georgia farmers produce the South's newest cash crop
View the article from Garden & Gun Magazine


---
Read Aussie Standard Wrapped, Paul Miller Pitches New World Olive Oil Quality 'Alliance' from The Olive Oil Times
Read Georgia Olive Farms from South Georgia Business magazine
(View the article as a PDF)
Read Georgia farmers banking on olive groves from The Washington Post
Read Georgia (Olive Oil) On Our Minds from The Olive Orchard
Read Growers Blend Olives and Blueberries from Growing Magazine.
Read A Photo Interlude: Shaw Orchards from Olive Crazy.
---
GOGA Mission Statement
Mission Statement
The Mission of the Georgia Olive Growers Association, Inc. is to promote, encourage and educate others about the growing of olive trees (olea europaea) in the State of Georgia along with the production and marketing of olive oil, pickled olives and other olive tree products derived from olive trees grown in our state.
---
Videos and Presentations
Traditional Orchard Planting and Southeast Olive Production
Don Mueller of Green Gate Olive Grove in Jackson County, FL gave a presentation on Traditional Orchard Planting and Southeast Olive Production.
---
Conversation With Kevin and Sam Shaw
In Lakeland, Georgia, something is growing that hasn't been seen for more than a century: olive trees. Three years ago Jason, Kevin and Sam Shaw planted olive trees on their farm even as others said it would never work. The trees are thriving and come spring Jason, Kevin and Sam hope to have a crop ready for pressing into olive oil. Most olive oil comes from Italy or California, a long hike and a heavy carbon footprint if you live on the East Coast of the U.S. Production of olive oil in Georgia will allow a lot more people to get a taste of Italy (and California) without the guilt. I talk with Kevin and Sam about their new venture. Visit Georgia Olive Growers Association.
VIDEO CREDITS: Lori Wark